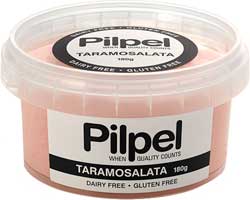 As authentic as the Mediterranean Sea is wet, our perfectly blended taramosalata gives you a few clues straight up. The first is its name – with that O (instead of A) harking back to a traditional way of doing things. The second is the wonderfully pink colour. Lastly, we use a unique blend of quality sunflower oil and extra virgin olive oil to create an incomparable light, smooth texture. Dairy free and gluten free, this spreadable standard has a saltier, zestier taste – but once you taste it, you won't go back!
Please note: Taramosalata is NOT certified Kosher
Recipe Idea
Taramosalata Tater Salad (pictured)
Serves 8-10 as a side
24 chat potatoes, boiled, thickly sliced
1 cup baby peas, blanched and refreshed
6 boiled eggs, quartered
2 spring onions, finely sliced
90g Pilpel Taramosalata
2 tbsp whole egg mayonnaise
2 tbsp sour cream
1 tbsp milk
1 tbsp lemon juice
Freshly cracked black pepper
Arrange potato slices, peas, eggs and spring onions on a large platter.
Whisk together Pilpel Taramosalata, mayo, sour cream, milk and lemon juice. Season with pepper then drizzle generously over the potato salad. Serve immediately.

Ingredients
Sunflower oil [antioxidant (tocopherol concentrate)], fish roe paste (13%) [cod roe, soybean flour, salt, sugar, water, colour (124), preservative (202), thickener (466)], water, lemon juice, extra virgin olive oil, fresh onion, preservative (potassium sorbate).
Contains fish roe and soy bean flour
Does not contain dairy, garlic, chilli or nuts
Dairy Free
Gluten Free 
Pack size: 180g Serving per Package: 9 Serving size: 20g
Ave. Quantity Per Serving
Ave. Quantity Per 100g
Energy

472

kJ (112Cal)

2360

kJ (564Cal)
Protein

0.5

g

2.5

g
Fat - Total

12.5

g

62.3

g
   saturated

1.4

g

6.8

g
   trans fat

0.0

g

<0.01

g
Carbohydrates

0.2

g

0.9

g
   sugars

0.2

g

0.9

g
Fibre

0.3

g

1.5

g
Sodium

170

mg

848

mg