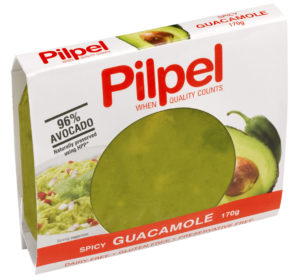 The is the real enchilada. Not only is it a traditional Mexican recipe (with a lovely delicate kick of jalapeño), it is 96% avocado, which means it's about as fresh a guacamole as you can get unless you grew a zapata mustache and made it on the spot. It is packed with a revolutionary naturally preserved process called HPP*. And it's Gluten free! Now you can have the REAL taste of Mexico with FRESH ingredients without the fuss!
Inspirations
Perfect in a chicken wrap
Serve with nachos and a squeeze of fresh lime
Add to a burger for a tasty, healthy alternative
*HPP (High Pressure Processing) is a cold pasteurisation method using high water pressure to maintain natural product quality, texture, nutrients, flavour and fresh taste.

Ingredients
Hass avocado (96%), jalapeño purée, vinegar, salt, onion, garlic.
No artificial colours or flavours added
Dairy Free
Gluten Free
Preservative Free
Pack size: 170g Serving per package: 10 Serving size: 17g
Ave. Quantity Per Serving
Ave. Quantity Per 100mL
Energy

114

kJ (27Cal)

669

kJ (160Cal)
Protein

0.3

g

2.0

g
Fat - Total

2.4

g

14.0

g
   saturated

0.3

g

2.0

g
   trans fat

0.0

g

0.0

g
Carbohydrates

1.5

g

9.0

g
   sugars

0.2

g

1.0

g
Fibre

1.2

g

7.0

g
Sodium

61

mg

360

mg