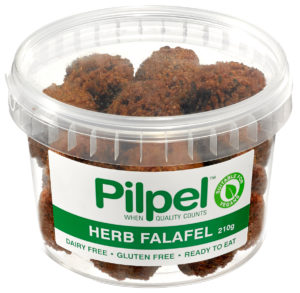 Falafel has always been a delicious and healthy option, but now it's truly going green with these brilliant balls of bountiful goodness. Loaded with just the right amount of tasty herbs, each bite reveals flavour you really can see.
Inspirations
Herb-tastic in wraps (just add hummous, rocket, and tomato).
Liven up a heavenly bowl of cooked quinoa, lemon-dressed kale and a dollop of your favourite Pilpel dip!
Recipe Idea
Brie and Mushroom Falafel Burger (pictured)
Makes 4
2 tbsp olive oil
200g brown cup mushrooms, sliced
2 sprigs thyme, leaves picked
4 brioche burger buns
Pilpel Garlic Dip
4 large lettuce leaves
2 vine ripened tomatoes, thickly sliced
1 wheel of brie cheese (chilled), horizontally cut into 4 rounds
1 clove garlic, finely chopped
Pilpel Herb Falafel
Salt and pepper
Heat oil in a frypan over medium heat. Add mushrooms, garlic and thyme leaves, season then saute until mushrooms become soft (about 3-4 mins).
Remove from heat.
Heat falafel according to packet instructions.
Cut brioche buns in half and lightly toast. Spread the bases with garlic dip.
Place a lettuce leaf on each bun.
Arrange tomato slices on top of lettuce.
Arrange brie slices on top of tomato then divide mushroom mixture between burgers, on top of the brie.
Arrange falafel on top of the mushrooms (about 4 falafel per burger) then top with brioche bun to serve.

Ingredients
Chickpeas, onions, herbs (7%), spices, garlic, salt, bicarbonate of soda. Cooked in vegetable oils [antioxidant (319), antifoam (900)].
No artificial colours or flavours added
Dairy Free
Gluten Free
Pack size: 210g Serving per Tub: 8 Serving size: 2 falafels
Ave. Quantity Per Serving
Ave. Quantity Per 100mL
Energy

278

kJ (66Cal)

1070

kJ (255Cal)
Protein

2.0

g

7.5

g
Fat - Total

3.8

g

14.8

g
   saturated

0.4

g

1.4

g
   trans fat

<0.02

g

<0.1

g
Carbohydrates

5.2

g

20.0

g
   sugars

0.6

g

2.2

g
Fibre

1.8

g

7.0

g
Sodium

315

mg

1210

mg