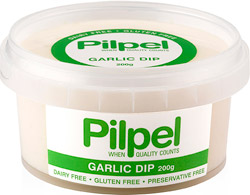 Vampires are all in vogue right now, and we think even they would struggle to keep their fangs off this tasty number. Where others lack bite, our killer dip delivers a distinctive yet delicate flavour, driving a wooden stake of yumminess through any unsuspecting dish. What else can we say? – it's the simplicity and purity of it that eclipses the competition. Truly a taste to die for!
Inspirations
Meatballs + toothpicks + garlic dip = empty appetizer platter!
The perfect smear campaign for toasted pita bread, Turkish bread, or pizza.
Sink your teeth into garlic coated prawns, fish or BBQ meat.
Fold through mashed potatoes for a surprising twist.
Give seafood pasta a wake up call.
Recipe Idea
Slow Cooked Lamb Shoulder (pictured)
Feeds 6-8
You will need to begin this recipe the day before
2kg lamb shoulder, bone in
1 x 200g Pilpel Garlic Dip, plus extra, to serve
1 cup basil pesto
6 sprigs thyme, leaves picked
6 cloves garlic, crushed
6 anchovy fillets, finely chopped (optional)
Finely grated zest of 1 lemon
Juice 1/2 lemon
¼ preserved lemon, peel only, very finely chopped
Salt and pepper
Combine all ingredients, except lamb, in a bowl. Mix well. Spread all over lamb then place into a non-reactive container and refrigerate overnight (min 8 hours) to marinate.
Preheat oven to 220ºC (200ºC fan). Place lamb on a baking rack on top of a baking tray. Roast, uncovered for 30 mins. Drop heat to 120ºC (100ºC fan), cover lamb with foil and roast for a further 7 hours. Remove foil, roast, uncovered for 30 mins.
Serve with extra Pilpel Garlic Dip, as part of a banquet.

Ingredients
Sunflower oil [antioxidant (tocopherol concentrate)], garlic (14%), water, salt, acidity regulator (citric acid)
Contains garlic
Does not contain dairy, chilli or nuts
Dairy Free
Gluten Free
Preservative Free
Pack size: 200g Serving per Package: 10 Serving size: 20g
Ave. Quantity Per Serving
Ave. Quantity Per 100g
Energy

557

kJ (133Cal)

2780

kJ (664Cal)
Protein

0.2

g

0.9

g
Fat - Total

14.7

g

73.5

g
   saturated

1.6

g

7.9

g
Carbohydrates

0.3

g

1.5

g
   sugars

0.0

g

0.2

g
Sodium

45

mg

223

mg