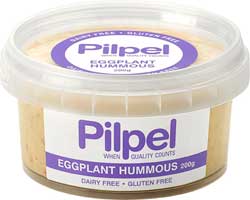 When asking "which came first, the chick or the egg?" surely they were talking about chickpeas and eggplants. And yet when it comes to our supersonic blend of two absolute legends of flavour, the answer is still just as elusive – it really is a dead-heat of deliciousness. Char grilled eggplant getting cozy with the freshest, locally sourced chickpeas, and folded through the smoothest tahini in the business – does it really matter which came first?
Inspirations
Everything hummous can do, this can do too, just more eggplanty!
Sensational with toasted pita bread/Turkish bread for a moreish snack.
Unbelievably good on baked white fish.
Generously combine with your favourite salad or mix through vegetables to give a creamy flavoursome punch!
Recipe Idea
Lamb Skewers with Eggplant Hummous (pictured)
Makes 6 large skewers
1kg lamb rump, diced into 3cm cubes
2 tsp ground cumin1 tsp ground sumac
½ tsp ground cinnamon
3 tbsp olive oil
1 tbsp pomegranate molasses
¼ cup mint leaves, finely chopped
2 cloves garlic, finely chopped
Salt and pepper
To serve – Pilpel Eggplant Hummous
Combine spices, oil, pomegranate molasses, mint and garlic in a non-reactive bowl. Season generously with salt and pepper then add diced lamb and mix well to coat. Cover and refrigerate for at least 2 hours to marinate.
Thread meat onto 6 skewers. Preheat BBQ or chargrill pan to high and cook skewers for 8-10 mins, turning every 2 mins to ensure they are evenly cooked. Allow to rest 4 mins before serving with Pilpel Eggplant Hummous.

Ingredients
Eggplant (66%), chickpeas (17%), sesame paste (8.2%), water, extra virgin olive oil, acidity regulator (citric acid), salt, preservative (potassium sorbate).
Contains sesame
Does not contain dairy, garlic, chilli or nuts
Dairy Free
Gluten Free
Pack size: 200g Serving per Package: 10 Serving size: 20g
Ave. Quantity Per Serving
Ave. Quantity Per 100g
Energy

78

kJ (19Cal)

391

kJ (93Cal)
Protein

0.7

g

3.7

g
Fat - Total

1.3

g

6.5

g
   saturated

0.2

g

1.1

g
   trans fat

<0.1

g

<0.1

g
Carbohydrates

0.8

g

3.9

g
   sugars

0.3

g

1.4

g
Fibre

0.5

g

2.7

g
Sodium

141

mg

705

mg