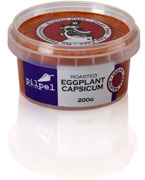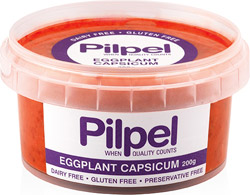 Great friends do everything together, but these two buddies appear to have missed the memo about not playing with fire. Luckily for us, the result is the very definition of scrumptiousness – spreadable, dippable, and unstoppable. And you won't need a microscope to feast your eyes on the char-grilled ingredients – equal parts of flavour, working together in harmony to make beautiful music on your taste buds. Fire up your appetite today!
Inspirations
Use with

bruschetta 

topped with roasted capsicum and spices for a certain crowd-pleaser.
Introduce it to its cousins by throwing in with your next mixed greens collection – green beans, snake beans, snow peas, broccoli etc.
For a delicious layer in your next vegetarian lasagna, look no further.
Mix through cooked rice, or add to your favourite sushi roll.
Recipe Idea
Bloody Mary Pasta (pictured)
Serves 4
1 tbsp olive oil
1 stick celery, finely chopped
½ brown onion, finely chopped
1 x 200g Pilpel Eggplant Capsicum dip
700g good-quality passata
60ml vodka (optional)
2 tbsp Worcestershire sauce
1 tbsp Tabasco sauce
½ tsp celery salt
Freshly cracked black pepper
500g pasta (we used radiatori but penne would also work well)
Shaved parmesan, to serve
Heat oil in a large frypan over medium heat. Add onion and celery and gently saute 3-4 mins or until softened but not coloured. Add Pilpel Eggplant Capsicum dip, passata, vodka, Worcestershire, Tabasco and celery salt. Season generously with pepper then reduce heat to low and allow to simmer 8-10 mins.
Cook pasta according to packet instructions, drain and serve with sauce and shaved parmesan.
Ingredients
Eggplant (45%), roasted red capsicum (45%), sunflower oil [antioxidant (tocopherol concentrate)], garlic, salt, acidity regulator (citric acid)
Contains garlic
Does not contain dairy, chilli or nuts
Dairy Free
Gluten Free
Preservative Free
Pack size: 200g Serving per Package: 10 Serving size: 20g
Ave. Quantity Per Serving
Ave. Quantity Per 100g
Energy

124

kJ (29Cal)

619

kJ (148Cal)
Protein

0.0

g

0.1

g
Fat - Total

1.2

g

6.2

g
   saturated

0.1

g

0.6

g
   trans fat

<0.1

g

<0.1

g
Carbohydrates

0.7

g

3.2

g
   sugars

0.0

g

0.0

g
Fibre

0.5

g

2.7

g
Sodium

96

mg

476

mg