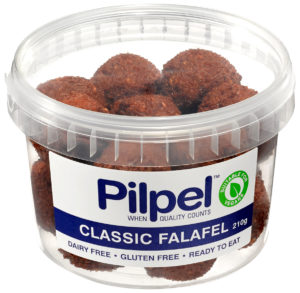 Surely the world's most versatile snack food, these bite-sized portions of yum invite you to enjoy this classic falafel flavour at home, school, the office, picnics, up a tree or while riding on a donkey. Lighted sprinkled with sesame seeds and loaded with juicy goodness, they can be gobbled hot or cold.
Inspirations
For a classic snack, fill a pita pocket with hummous, pickled cucumber, salad and tahini.
Simply toss through your favourite salad!
Recipe Idea
Roast Cauliflower and Eggplant Falafel Wrap (pictured)
Makes 4
½ cauliflower, florettes cut off
½ cup olive oil
Pilpel Classic Falafel
4 soft bread wraps
Pilpel Eggplant Hummous
Store-bought, chargrilled eggplant slices*
1 cup store-bought tabbouleh
½ cup pickled vegetables**
Sesame seeds, to serve (optional)
Salt and pepper
Preheat an oven to 180ºC (160ºC fan). Line a baking tray with baking paper.
In a large bowl add cauliflower and olive oil, season then toss to coat well. Spread evenly over the prepared tray and bake until soft and golden (about 20 mins).
To arrange the wraps, spread each wrap with a generous spoonful of Pilpel Eggplant Hummous. Arrange 2-3 eggplant slices on top, then divide tabbouleh between wraps. Divide roast cauliflower, pickled vegetables and falafel between wraps. Sprinkle with sesame seeds then wrap tightly to serve.
*available from delis or jarred from the supermarket.
**available from Middle Eastern and Asian supermarkets

Ingredients
Chickpeas, onions, chilli [acidity regulator (acetic acid), preservative (sodium bezoate)], spices, garlic, sesame seeds, salt, bicarbonate of soda. Cooked in vegetable oils [antioxidant (319), antifoam (900)].
Contains sesame
No artificial colours or flavours added
Dairy Free
Gluten Free
Pack size: 210g Serving per Tub: 8 Serving size: 2 falafels
Ave. Quantity Per Serving
Ave. Quantity Per 100mL
Energy

330

kJ (86Cal)

1270

kJ (303Cal)
Protein

2.6

g

10.0

g
Fat - Total

4.7

g

17.9

g
   saturated

0.5

g

1.9

g
   trans fat

<0.02

g

<0.1

g
Carbohydrates

6.6

g

25.5

g
   sugars

0.6

g

2.3

g
Fibre

2.2

g

8.6

g
Sodium

213

mg

820

mg