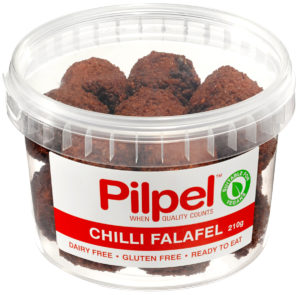 Packing a falafel ball with chilli is a tricky business. Too much and it's too hot; not enough and we shouldn't have bothered. Luckily for you, we've cooked up just the right amount of chilli. Great either warmed up or cold, enjoy on your own or share with the world.
Inspirations
Add fire and excitement by including falafels to your next mezze plate!
Create burger nirvana with baby spinach, tomato, grilled haloumi and your favourite Pilpel dip!
Recipe Idea
Rainbow Falafel Bowl (pictured)
Makes 2 bowls
180g (1 cup) brown rice
10 Pilpel Chilli Falafel balls
½ large avocado
20 edmame pods
½ cup store-bought sauerkraut
2 eggs, boiled, peeled and halved
1 tbsp olive oil
6 broccolini stems, cut in half
1 medium carrot, peeled
4 nori sheets
Sesame seeds, to serve
Cook rice according to packet instructions. Drain and set aside to cool slightly while you prepare the other ingredients.
Heat falafel according to packet instructions.
Use a melon baller to scoop balls from the avocado (if you don't own a melon baller just roughly chop the avocado.
Prepare edamame according to packet instructions. Remove beans from the pods, set aside (discard empty pods).
Heat oil in a frypan over medium heat. Add broccolini and saute until bright green and softened (about 2 mins). Remove from heat.
Use a julienne peeler or box grater to shred carrot.
To assemble the bowls, divide cooled rice evenly between two bowls. Arrange half of each of the prepared ingredients around the edge of each bowl then tuck two nori sheets into each bowl and scatter with sesame seeds to serve.

Ingredients
Chickpeas, onions, chilli (4%), garlic, salt, spices, bicarbonate of soda. Cooked in vegetable oils [antioxidant (319), antifoam (900)].
No artificial colours or flavours added
Dairy Free
Gluten Free
Pack size: 210g Serving per Tub: 8 Serving size: 2 falafels
Ave. Quantity Per Serving
Ave. Quantity Per 100mL
Energy

273

kJ (65Cal)

1050

kJ (251Cal)
Protein

1.9

g

7.4

g
Fat - Total

3.4

g

13.2

g
   saturated

0.3

g

1.3

g
   trans fat

<0.02

g

<0.1

g
Carbohydrates

5.8

g

22.3

g
   sugars

0.7

g

2.7

g
Fibre

2.0

g

7.6

g
Sodium

262

mg

1010

mg