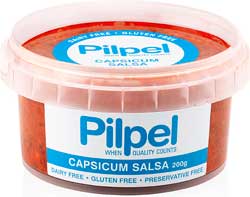 A crowd favourite, combining the feel-good household name of capsicum, roasted to perfection, and introducing it ever-so-politely to a dinner party of Turkish flavours, herbs and spices. Then we let some chilli loose in there and watch the fun unfold. Marvel at its nutty chompability. Applaud its versatility. And delight in a colour and flavour so rich that it needs its own bodyguards. This taste of Turkey will definitely make you want to gobble gobble!
Serving Suggestions
Play chicken by marinating chook breasts and either grilling or BBQ-ing to a standing ovation.
Sausages just aren't sausages without a dollop of this beside them.
Colour and flavour combine when tossed through penne pasta.
Add some pizzazz to pizzas by using it as a gourmet base.
Ingredients
Roasted red capsicum (82%), sunflower oil [antioxidant (tocopherol concentrate)], sugar, garlic, salt, spices, chilli, acidity regulator (citric acid), herbs
Contains garlic and chilli
Does not contain dairy or nuts
Dairy Free
Gluten Free
Preservative Free
Pack size: 200g Serving per Package: 10 Serving size: 20g
| | Ave. Quantity Per Serving | Ave. Quantity Per 100g |
| --- | --- | --- |
| Energy | 109kJ (26Cal) | 543kJ (129Cal) |
| Protein | 0.1g | 0.4g |
| Fat - Total | 2.2g | 11.2g |
|    saturated | 0.2g | 1.2g |
|    trans fat | <0.1g | <0.1g |
| Carbohydrate | 1.1g | 5.6g |
|    sugars | 0.5g | 2.6g |
| Fibre | 0.5g | 2.4g |
| Sodium | 94mg | 470mg |