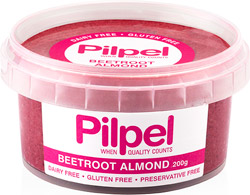 The food world is full of unlikely love stories. These two met each other across a crowded pantry and it was lunch at first sight. Everyone told them it wouldn't work, but they were nuts for each other and determined to prove them wrong. Their marriage was a bold yet tasteful affair – bright colour and surprising texture, and they now share a happy home together. They might say 'love is blind', but it's definitely not bland!
Inspirations
Rise and shine! Say hello to creamy yogurt or spread on toast with cream cheese for breakfast.
Meat and greet – serve it with red meat for dinner, hamburgers, steaks, cold cuts sandwiches etc.
Splash colour into potato salad for extra flavour and extra marks for originality.
Try it out with smoked or well-grilled salmon for a delicious balance of flavours any time of year.

Ingredients
Beetroot (85%), almond meal (9%), sunflower oil [antioxidant (tocopherol concentrate)], mustard, acidity regulator (citric acid)
Contains almonds
Does not contain dairy, garlic or chilli
Dairy Free
Gluten Free
Preservative Free
Pack size: 200g Serving per Package: 10 Serving size: 20g
Ave. QUANTITY PER serving
Ave. Quantity Per 100g
Energy

122

kJ (29Cal)

609

kJ (145Cal)
Protien

0.6

g

2.8

g
Fat - Total

1.5

g

7.9

g
   saturated

0.2

g

0.8

g
   trans fat

<0.1

g

<0.1

g
Carbohydrates

2.2

g

11.2

g
   sugars

2.0

g

9.9

g
Fibre

0.6

g

2.9

g
Sodium

45

mg

223

mg