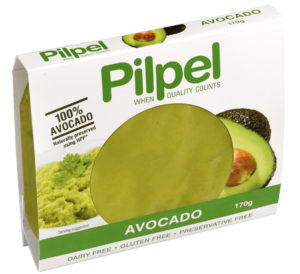 100% Avocado? Really? You're kidding, right? No we're not; this is the real thing as fresh as you ever thought possible in a pre-packed avocado. We are still pinching ourselves too. It is packed with a revolutionary naturally preserved process called HPP*. And it's Gluten free! There's nothing fresher on the market – unless you buy an avocado and wait for that 2 minute window when it is actually perfect to eat. Now you can have perfect 100% avocado smash at home without the fuss!
Inspirations
Great as an avocado smash on toast with sliced tomatoes and crumbled feta
Serve with poached eggs or shredded chicken to your favourite salad
Add a dollop to your homemade Poké bowl
Use as a base to create your own signature guacamole
*HPP (High Pressure Processing) is a cold pasteurisation method using high water pressure to maintain natural product quality, texture, nutrients, flavour and fresh taste.

Ingredients
Hass avocado (100%).
No artificial colours or flavours added
Dairy Free
Gluten Free
Preservative Free
Pack size: 170g Serving per package: 10 Serving size: 17g
Ave. Quantity Per Serving
Ave. Quantity Per 100mL
Energy

114

kJ (27Cal)

669

kJ (160Cal)
Protein

0.3

g

2.0

g
Fat - Total

2.6

g

15.0

g
   saturated

0.3

g

2.0

g
   trans fat

0.0

g

0.0

g
Carbohydrates

1.5

g

9.0

g
   sugars

0.2

g

1.0

g
Fibre

1.2

g

7.0

g
Sodium

0.9

mg

5.0

mg